AFC Preview
East
Buffalo Bills
The Buffalo Bills certainly have not had an easy time over the last few seasons. A string of injuries at key positions and a distinct lack of playmakers on both sides of the ball has kept them struggling at the bottom of the division. However, that could all be about to change. The Bills are coming into the 2012 season with the strongest roster they have had in several years, with DE's Mario Williams and Mark Anderson looking to make a big impact on the defensive line. Buffalo's running game will also be perked back up, with Fred Jackson returning from the leg injury that ended his 2011 season. If QB Ryan Fitzpatrick can stay consistent for the duration of the season, the Bills could well be looking at their first playoff trip in 16 years.
Miami Dolphins
The Miami Dolphins were the stars of this year's series of Hard Knocks. Unfortunately, it may be the closest to stardom they get this season, as the AFC East is looking to be very much out of reach. This is a team that is currently in the process of an overhaul, with a new head coach, new playbook and a new quarterback. The success of this franchise is being pinned on newly drafted QB Ryan Tannehill, who found himself on top of the pile after a three-way battle for the No.1 roster spot during training camp. Tannehill will certainly have a hard time of it this season, as the Dolphins are looking decidedly thin at the wide receiver position after trading Brandon Marshall, their No. 1 wideout, to the Chicago Bears. It is fair to say that this season will simply be a learning experience for Tannehill and, while he may find his feet and start posting big numbers eventually, it certainly won't be with this receiving corp.
New England Patriots
If there is one team that will not struggle to top their division this year, it is the New England Patriots. An explosive pass-heavy offence lead by elite signal caller Tom Brady will undoubtedly contribute to a large amount of points over the course of the season, especially when you consider the ease of their schedule. One area that the Pats have always struggled with, however, is their secondary. The Patriots finished 31st against the pass last year and the cornerbacks will need to work on their man coverage in order to rectify a poor season last year. The defensive line were also a concern last year, but the introduction of DE Chandler Jones and linebacker Dont'a Hightower should add some much needed urgency to their pass rush.
New York Jets
The media circus surrounding the New York Jets has been relentless, with the main talking point being the acquisition of QB Tim Tebow from the Denver Broncos. The move seemed a little strange, as it came just days after Mark Sanchez signed an extension to his contract. However, after much speculation, it would appear that Sanchez will keep his starting quarterback job for you. He had better up his game from last year though, as you can be sure the fans will be chanting Tebow's name after Sanchez' first interception. While the defence at New York are looking as solid as always, especially at the cornerback position, the main worry is the receiving unit. When your only proven receiver is an ageing Santonio Holmes, you know you have cause for concern. Unless the young receivers rise to the challenge and the offensive line manage to keep Sanchez upright, this could prove to be a very long, painful season for The Gang Green.
Prediction:
Patriots 14-2
Bills 10-6
Jets 7-9
Dolphins 3-13
North
Baltimore Ravens
2011 was a good year for Baltimore, with the team topping the division and marching all the way to the AFC championship game. One incomplete pass was all that stood between the Ravens and the Super Bowl. This is likely to give QB Joe Flacco the confidence he needs to make this another big year. A fast set of receivers and an exciting no-huddle offence is sure to keep the points flowing for the boys in purple. The main concerns for the team will come, surprisingly, from the defence. The normally hard hitting unit is starting to show its age, with linebacker Ray Lewis and FS Ed Reed coming to the end of their careers. Losing LB Tarrell Suggs to an Achilles injury will also be a huge blow and the rest of the defence will have to play their hearts out to make up for that loss. Despite the defensive worries, there is certainly no reason why the Ravens can't make a playoff run again this year.
Cincinnati Bengals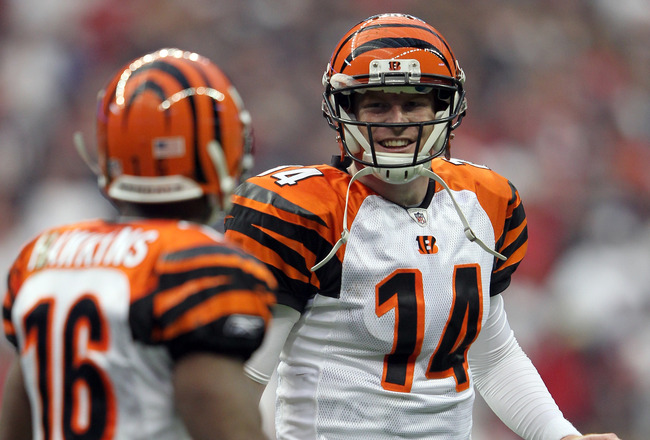 Last season saw the introduction of rookie QB Andy Dalton and WR A.J Green to the Bengals' offence. The team was supposed to be in rebuilding mode, but that rookie QB-WR combo proved to be more effective than anyone expected as Dalton became the first rookie in NFL history to throw 20 or more touchdown passes while winning 8 or more games as a starting QB. Cincinnati surprised everybody last year by making it to the playoffs and, with Dalton and Green poised to have an even bigger season this year, there's no reason why they can't do it again. A great defensive line and secondary should also keep them safe on the other side of the ball. The run game is certainly a weak point, a hole that Coach Marvin Lewis has tried to fill by signing BenJarvus Green-Ellis. However, nobody is expecting many points from the ground and all eyes will be on Dalton to perform well again in his second year.
Cleveland Browns
The past season was a fairly dismal one for the Browns, who finished 4-12 at the bottom of the AFC North. This was due to a number of reasons, including a complete inability to get any rhythm going on the ground or through the air and a lacklustre run defence. Head Coach Pat Shurmur has tried to inject some youth into the team this year, with QB Brandon Weeden, running back Trent Richardson, left guard Jason Pinkston and FB Owen Marecic all set to start the season opener in their rookie season. The Browns certainly have their work cut out for them though, with one of the hardest schedules in the NFL and three tough teams to overcome in their division. While it will be interesting to see how the rookies perform, it would be hard to predict a winning season this year in Cleveland.
Pittsburgh Steelers
The Steelers playoff run came to a screeching halt last season at the hands of Tim Tebow and the Denver Broncos. Pittsburgh will be looking to get there again this year, but it could be a tough start to the season. RB Rashard Mendenhall will not be fit for the start of the year, leaving a fairly weak backfield headed up by Isaac Redman. Outside Linebacker James Harrison may also not be fit for the start of the season, and the sack machine will be sorely missed. However, once the key men get back from injury, the Steelers will be looking to keep their title of No. 1 defence in the league from last season. If the offensive line gets into their groove and keep elite QB Ben Roethlisberger upright more than they did last season, the Steelers could prove to be the complete package and will find themselves with another winning season.
Prediction:
Ravens 13-3
Steelers 11-5
Bengals 8-8
Browns 2-14
South
Houston Texans
Houston was a breakout team in 2011, winning their division for the first time and winning a playoff game. This year, they will be looking to make the most of the weapons at their disposal and make it all the way to the Super Bowl. With RBs Arian Foster and Ben Tate making up a scary looking backfield and a pass rush that will keep opposing QBs awake at night, this team is the complete package. Star DE Mario Williams may have picked up an injury halfway through the season, but the teams' defensive numbers never dwindled and the Texans ended up allowing fewer yards per attempt than any other team over the last nine weeks of the season. As long as QB Matt Shaub and WR Andre Johnson stay healthy throughout the season and Foster keeps putting up the numbers, there is no reason why the Texans won't make a deep run again this year.
Indianapolis Colts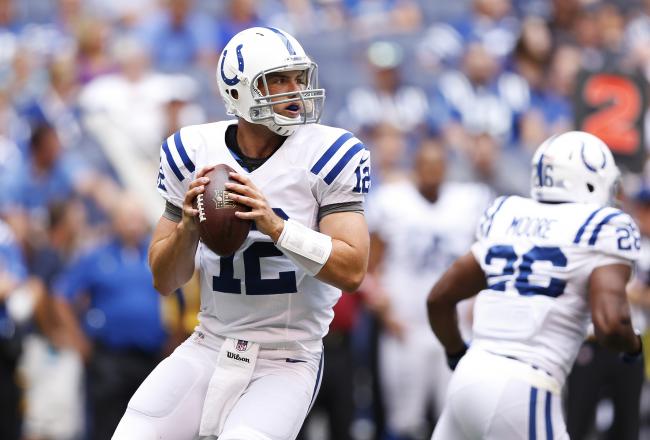 This season marks a new dawn for the Colts: the Peyton Manning legacy has drawn to a close and the Andrew Luck era is just beginning. The No.1 draft pick has looked sharp in preseason and has shown that he is a fast learner, showing improvement after every game that he plays. He will be getting plenty of support at the Indy camp and with plenty of receiving targets to throw to, he should have a fairly successful rookie season. The defence has also been shaken up, with new defensive coordinator Greg Manusky installing a dynamic 3-4 defence that should result in plenty of blitzes and a lot of big plays. The offensive line is a concern, with only two starters from last season returning to the line this year. This could prove problematic, as Luck will need all the help he can get to get settled and stay on his feet in his rookie season. While nobody is expecting the Colts to make a Super Bowl run this year, the addition of Andrew Luck will certainly make the team competitive.
Jacksonville Jaguars
The main headline in the Jacksonville camp this preseason has been RB Maurice Jones-Drew's holdout. Both sides were stubborn in their approach, but it was Jones-Drew who eventually cracked and ended his holdout after 38 days. He now has a lot of work to do over the next few weeks to earn his starting spot back from backup Rashard Jennings, who has posted some impressive numbers during the preseason matches. The key to the Jaguars success may well lie in the hands of second year quarterback Blaine Gabbert, who had a fairly underwhelming rookie season. First round draft pick WR Justin Blackmon will give him a real target to aim for and Gabbert will need to connect with him in what could be his make-or-break season. With a less than impressive defence on the other side of the ball, the Jaguars will need a miracle if they want to post a winning record this season.
Tennessee Titans
QB Jake Locker was picked eighth overall in the 2011 draft but did not start a game as a rookie. With Matt Hasselbeck gone, the stage is set for Locker to take the reins and show what he can do. This season will also be a big one for running back Chris Johnson. After an incredible 2010 season, Johnson held out at the start of last year and ultimately, missed the majority of training camp. This led to his less than impressive 2011 numbers, with a career low of 1,047 yards and four touchdowns. He is looking to make a big impression again this year and, with a full training camp under his belt and Locker set to take some of the focus from him, he should fully rebound from last year. The defence in Tennessee will prove to be a problem this year, with a complete lack of pass rush that may well cost them games with an already tough schedule. It remains to be seen if Locker and Johnson can do enough between them to keep the Titans afloat this season.
Prediction:
Texans 11-5
Colts 7-9
Titans 7-9
Jaguars 5-11
West
Denver Broncos
Denver bagged themselves a legend in the form of QB Peyton Manning and it is no secret that the organisation are pinning most of their hopes on him. Just having Manning on your side can lift any team, and the Broncos will certainly be a division contender with him at the helm. However, a quarterback cannot win games on his own and some questions will certainly be asked of the defence when Manning is not on the field. The Broncos have a fantastic pass rush, with LBs Von Miller and D.J Williams sure to rack up a number of sacks between them. Unfortunately, they are not quite as competent against the run and must show improvement in the middle of the defence. If the defence can plug the holes and Manning can stay healthy after a year out of the NFL, the Broncos will be a force to be reckoned with this season.
Kansas City Chiefs
Kansas City could be a real contender this year in the AFC west, but it depends on a lot of factors. QB Matt Cassel has been inconsistent at times but he has a lot of decent receivers to work with. If he can connect with Dwayne Bowe and Jon Baldwin, the Chiefs could be a real threat through the air. The return of RB Jamaal Charles and the signing of Peyton Hillis will give their run game some real punch, which should help to give Cassel some breathing room. The Chiefs also have a stellar secondary, with safety Eric Berry back after an injury took him out last season after only one week. The D-line has looked a little shaky at times, but their No.1 draft pick Memphis Poe should bring some athleticism and power to the nose tackle position. Alot of elements need to come together in Kansas City, but the franchise certainly has the personnel to make this season a great one.
Oakland Raiders
The Oakland Raiders have an opportunity to make a splash in a very tight division, but their success hinges more-or-less on one man: Darren McFadden. The running back is a huge playmaker and is usually the man scoring the points in Oakland. However, his durability is a huge concern and must improve if the Raiders are going to stand any chance of winning the division. A lot is also riding on QB Carson Palmer, who will play his first full season with the Raiders. He didn't have a fantastic season last year, throwing 16 picks in just 10 games. However, there is no doubt that he has a great arm and if he can utilize that power while improving his accuracy, he could be a real threat and the Raiders could find themselves in contention for the division.
San Diego Chargers
San Diego are coming in to this season with something to prove. Once the dominant team in the AFC West, the Chargers found themselves struggling and missed out on the playoffs two seasons in a row. In an attempt to revitalise the flagging squad, the management brought in over a dozen veteran free agents, a move that QB Phillip Rivers believes will help the team to no end. Chargers fans will be hoping that this is the year that TE Antonio Gates returns to form. Over the past few years, he has been dealing with injuries that have kept him from his elite best. This season, he will be coming back with a clean bill of health and it will be interesting to see if he can get back to his old TD-scoring self. RB Ryan Mathews picked up a shoulder injury during preseason and San Diego will be wishing him a speedy recovery so he can continue improving and take on the heavy workload the Chargers have planned for him. The Chargers schedule is not an easy one, but if Rivers can connect with his new targets and Gates can find his form again, they have as much chance as any of the four AFC West teams to top the division.
Prediction:
1. Broncos 9-7
2. Chargers 8-8
3. Chiefs 8-8
4. Raiders 7-9