NASCAR Betting: 2011 Jimmie Johnson Preview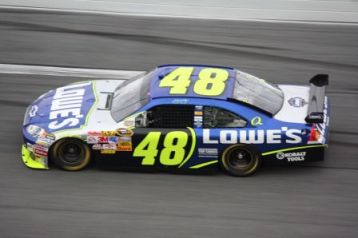 After making history, you can't blame NASCAR betting fans for taking Jimmie Johnson to win yet another Sprint Cup Championship. This is your Jimmie Johnson 2011 preview.
Johnson set a NASCAR record last year by becoming the only driver in history to win five consecutive Sprint Cup Series titles. The Hendrick Motorsports star also made the top five in four straight years before his championship run began, so there's no doubt he'll be in the mix once again.
Though he won it all last season, it was perhaps Johnson's least dominant season since his first championship in 2006. Johnson won his fewest races (six) and fewest poles (two) in four years. He remained incredibly consistent, though, cracking the Top-5 17 times in 36 races. Johnson's average start position has been incredibly consistent over the last four years: ninth, ninth, eighth, and ninth.
If you're looking for a driver carrying some momentum into the 2011 season, however, Johnson may not be your guy. Though he finished second in his final race of the year, Johnson won just a single race during the final five months of the year — a span of 19 races.
At the same time, Johnson is as good a candidate as any to rip off a hot start. He kicked off 2010 with three wins in his first five races, and four victories in his first seven.
Regardless, Johnson is no longer chasing records — he already owns them — but instead racing for a place in history. With another championship, it will be hard for NASCAR betting fans to label him anything but the best of all time.
You ready for some NASCAR? Bet on auto racing futures at Bodog