NFC Preview
East
Dallas Cowboys
There was a bit of a meltdown in Dallas last year, with the Cowboys throwing away their divisional lead with five games to go. Fingers were pointed in a variety of directions, but primarily at the defence and QB Tony Romo. The Cowboys' secondary was fairly unreliable last season, especially when extra defenders were sent on a blitz. This will hopefully be corrected with the acquisition of two big cornerbacks during the offseason: free agent Brandon Carr and first round draft pick Morris Claiborne. These pickups should provide some stability to the defence and allow defensive coordinator Rob Ryan to make the aggressive plays he is known for. Romo's ability to play under pressure has also been an issue for the last few years but the offensive line has had its part to play in that. A weak interior line led to Romo taking a lot of hits last year, so improvements will have to be made if the Cowboys are going to get the best out of him this year. Until there is evidence of improvement in the defence and o-line, it is hard to see the Cowboys making it to the playoffs this year.
New York Giants
The Giants enter the 2012 season as Super Bowl champions and, with a fantastic team fronted by QB Eli Manning on offence and DE Jason Pierre-Paul on defence, they are expected to put on another good show this year. This is a team who know how to step up their game in the face of adversity and play to their opponents' level. Eli Manning showed everyone what an incredible playmaker he is when he threw for nine touchdowns and only one interception in the playoffs. If the O-line can protect Mannings' blindside better this year and keep him upright, he is sure to have another great season. However, it is the defence that gives other teams nightmares, with Pierre-Paul racking up 16.5 sacks on his own last season. If the defensive tackles can put in the same work that the ends do, opposing QBs may find themselves on their backs even more this season. They aren't a team without flaws though, and their run game is an area in need of some serious improvement. The Giants finished last in rush yards last year, so Ahmed Bradshaw will have to try and stay healthy this year to keep the ball moving on the ground. It is always tough for any team to repeat as Super Bowl champions. But are the Giants capable of doing it? Absolutely.
Philadelphia Eagles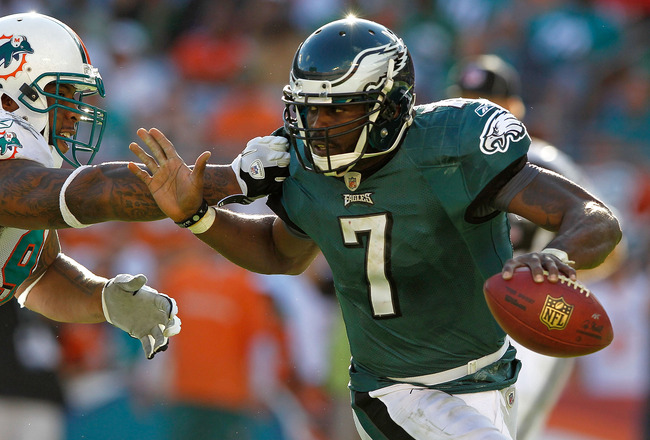 The 2011 season was one of great expectation for the Eagles, who were tipped to make a Super Bowl run after QB Michael Vick had an incredible year in 2010. Unfortunately, Philadelphia never really got going, and a combination of Vick's lack of durability and a less than impressive defence contributed to a disappointing season. They'll be looking to bounce back this year and perform to the high standards that were set for them last year. The Eagles have a plethora of offensive weapons, with receiving threats DeSean Jackson and Jeremy Maclin looking to have good years. RB LeSean McCoy is also one of the best in the business and is sure to repeat his fantastic performance of the last couple of seasons. Questions will be asked of the defence this year, but with upgrades to the D-line in the form of DT Fletcher Cox and DE Vinny Curry, they could prove to be a dangerous unit this year. If Vick can stay healthy and the defence does its job, the Eagles should be able to right the wrongs of last season and make a playoff bid.
Washington Redskins
The Redskins traded three first-round picks and a second-round pick in order to secure Heisman Trophy winning quarterback Robert Griffin III at this year's draft. The question is: will he prove to be the franchise QB his team so desperately need? There is no doubt that RG3 is a talented individual and has proven his ability to make big plays already in the preseason, both through the air and with his feet. Signing WR Pierre Garcon and Leonard Hankerson will certainly give him some solid targets to aim for and he is expected to make quite a splash in Washington. One area that the Redskins are sure to be solid is the defence, with a tough defensive line and a playmaking linebacker corp led by London Fletcher. While the Redskins aren't expected to have a huge season this year, they are certainly in the process of building a franchise that will be competitive in the not-too-distant future.
Prediction:
Giants 10-6
Eagles 9-7
Cowboys 6-10
Redskins 6-10
North
Chicago Bears
Chicago are a team that have been on the edge of greatness for a few seasons now. Last season was looking to be a big one but, when the Bears were sitting on a 7-3 record, they lost QB Jay Cutler to a thumb injury. They limped onwards and finished at a disappointing 8-8. This season, Cutler will return and is poised to have a great year with the addition of some much needed receiving weapons. Joining the team this year is WR Brandon Marshall, who played with Cutler in Denver several years ago. Marshall was Cutler's favourite target back then and will certainly be the No. 1 receiver from the get-go in Chicago as well. The Bears also signed RB Michael Bush, who should provide some much needed short yardage punch from the backfield and will compliment Matt Forte perfectly. The defence are a fearsome bunch, but they are certainly not getting any younger. Middle linebacker Brian Urlacher has missed most of the preseason after knee surgery and, at 34, is certainly in the final years of his career. However, leadership and playmaking abilities are unrivalled, and the Bears will be looking for one more big season out of him before his contract expires this year. With the offense looking better than ever in Chicago, this could be the year where the Bears make a deep playoff run.
Detroit Lions
QB Matthew Stafford came in to the 2011 season under the radar, but all that changed when he threw for over 5,000 yards and over 40 touchdowns. Unfortunately, the Lions were picked to pieces by the Saints in the playoffs, but they will be looking to have another great season this year. Of course the big name in the Detroit offence is WR Calvin Johnson, and Stafford will be firing the majority of the passes his way again this season. The Lions two tight ends are also going to give opposing defences plenty of headaches in a passing offense with a lot of flair. However, the Lions' run game isn't quite as deadly, and with both Jahvid Best and Mikel Leshoure unavailable for the start of the season, they will be relying on third string running back Kevin Smith to get the job done. The secondary is also a concern in Detroit and, with safety Louis Delmas out with a knee injury and CB Eric Wright getting traded to Tampa Bay, the unit will have to play out of their skin to keep the number of long touchdowns low. While the combination of Stafford and Johnson alone will win them several games, the holes in the backfield and the secondary will make this a tough season for the Lions.
Green Bay Packers
When a team has a quarterback like Aaron Rodgers, arguably the best player in the league, they are expected to do great things. A Super Bowl win in the 2010 season and going 15-1 before narrowly losing out to the Giants in the championship game last year are tough to repeat, but Green Bay show no signs of slowing down. Rodgers was the MVP last season and, heading into the prime of his career, is set to have another big season. The number of great receivers in the Packers' arsenal is mindboggling, with Greg Jennings, Jordy Nelson, Randall Cobb and Donald Driver all capable of making big plays. Green Bay's lack of pass rush was one of their few weaknesses last year, but the injection of youth to the defence in the form of LB Nick Perry and D-lineman Jerel Worthy should combat that problem. With the Packers focusing primarily on making plays through the air, the running game has always been lacklustre. If James Starks and new signing Cedric Benson can get something going this year, a more balanced offence will give Aaron Rodgers a little more breathing room and even more of an opportunity to shine. This team is looking like one of the most complete packages in the NFL and are certainly looking like a Super Bowl favourite this year.
Minnesota Vikings
In what is arguably one of the toughest divisions in the NFL, the Vikings are certainly looking like the underdogs again this year. The return of RB Adrian Peterson from knee surgery will certainly lift the team and bring some much needed punch back to the offence, but it is hard to say if he will be back to his best any time soon. QB Christian Ponder showed a few flashes of brilliance last year in his rookie season, but he still has some improving to do and it may be a couple of years before he becomes the quarterback that the team really need right now. The Vikings' secondary is also a huge problem and a major effort was made to rectify the situation during the offseason. Three defensive backs were taken during this year's draft and the defence is looking to be a major rebuilding project. While we may see some good games out of Ponder and hopefully some flashes of Peterson's past magic, it is hard to see the Vikings going anywhere in this division.
Predictions:
Packers 14-2
Bears 10-6
Lions 8-8
Vikings 2-14
South
Atlanta Falcons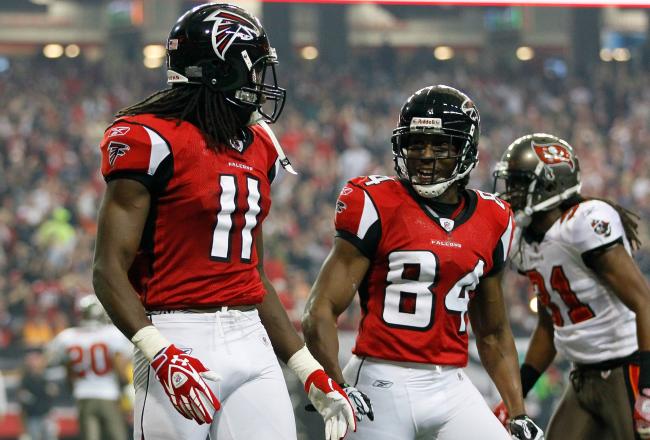 Atlanta have made it to the playoffs four times in five years with QB Matt Ryan, but have yet to win a playoff game. This year, they will be looking to change that by shaking things up on both sides of the ball, with new offensive and defensive coordinators to breathe some fresh life into the team. Ryan has been one of the most consistent signal-callers in the NFL over the last couple of seasons and, with the Falcons looking to install a more dynamic no-huddle offence with more three receiver sets, he should be able to post more big numbers this year. Wide receivers Roddy White and Julio Jones both pose a huge deep threat, with Jones looking to have his breakout season this year. The aerial attack will probably reduce RB Michael Turner's workload down, which should help to keep him fresh and explosive when he does get the ball in his hands. However, if the Falcons want to make it to the playoffs this year, they will need to improve both the offensive and defensive lines. Matt Ryan took a lot of hits last year and the D-line lack any real pass rushing threats to put opposing QBs under any pressure. There is no doubt that they have the talent to win a playoff game, but do they have the determination to get there for the fifth time in six years and get the job done?
Carolina Panthers
When the Panthers took QB Cam Newton as their first pick in the 2011 draft, they knew they would be getting something special. Nobody could have predicted how special he would be though, as he went on to break a whole load of records in his rookie season, including most passing yards in a rookie season (4,051), most total TDs by a rookie quarterback (35) and first QB in NFL history to pass for more than 400 years in their first two career starts. With big receiving targets in the form of Steve Smith and Brandon LaFell and a host of depth at running back, headed by Jonathon Stuart, this offence is set to be a real monster. The only thing that held the Panthers back last year was their defence, which struggled with their pass rush due to injuries. However, with the return of DT Ron Edwards and linebacker Jon Beason, the defence should get some of their spark back this year. This division is a tough one but, if Cam Newton can pull a repeat of last year out of the bag, the Panthers certainly have a shot at the playoffs.
New Orleans Saints
After the discovery of the Saints bounty program in the offseason and the subsequent suspension of several key coaching staff, including Head Coach Sean Peyton, they have a tough season on their hands. The suspension of several of the defence players will also put more pressure on the offense to carry the team. QB Drew Brees knows this and he will be up to the task. Brees became the highest paid NFL player after signing a $100 million contract during the offseason and he will be looking to prove that he was worth the money. The wealth of talent in the backfield should take some of the pressure off of Brees, with RBs Mark Ingram, Darren Sproles and Pierre Thomas all capable of making an impact in both the running and passing game. Obviously, the suspensions are going to have a big impact on the defensive side of things, with high influence players like LB Jonathon Vilma and DE Will Smith suspended. The missing coaches and players means this team has some big adjustments to make, but expect Drew Brees to use the negative energy to his advantage and take his team to the playoffs again.
Tampa Bay Buccaneers
Tampa Bay had a tough time last season, finishing with a 4-12 record when QB Josh Freeman was expected to have a good season. Unfortunately, he was less than consistant, throwing for 22 interceptions last year. This year, the Buccs new head coach Greg Schiano is looking to begin the rebuilding process and get the franchise back on track. Schiano is a coach who loves the running game and the drafting of RB Doug Martin should provide some strength in that area and take some pressure off of Freeman. Freeman will also have some new targets to aim for this season including WR Vincent Jackson and TE Dallas Clark, which should hopefully get his numbers back on track. Even if the offense comes out firing on all cylinders, a pedestrian defence may be what hold the Buccaneers back this year. The linebacker corps in particular is very weak and very few changes have been made to the defence that allowed the most rushing yards in the NFL last season. We may have to wait for a few more years before we start to see what Schiano can do for the franchise and this year will be a long one for Tampa Bay
Predictions:
Saints 11-5
Falcons 10-6
Panthers 9-7
Buccs 4-12
West
Arizona Cardinals
The main story in the Arizona camp is the QB situation, with both Kevin Kolb and John Skelton vying for the starting job. Unfortunately, neither of them is anything special and this could be what holds the Cardinals back yet again this year. It is a shame that a team with such a strong receiving corps does not have a decent quarterback to throw them the ball; Larry Fitzgerald racked up 1,400 yards last year, so imagine what he could do with an elite QB! The defence is good enough to win games for Arizona, with CB Patrick Peterson looking to have another good year. Aside from his skills at cornerback, he is also a fantastic punt returner, bringing in four return TDs for the team last season. If one of the two QBs emerges as a reliable option in Arizona, then the team might have a shot at the playoffs. As it is, it is hard to see them making much of an impact in the division.
San Francisco 49ers
After a few inconsistent years, QB Alex Smith finally found his mojo in 2011 and surprised everybody by leading the 49ers to the top of the division. Head coach Jim Harbaugh has brought in a wealth of receiving talent to help him do it again this year, with A.J Jenkins being drafted in the first round and Randy Moss and Mario Manningham signed in the offseason. Randy Moss may have been out of the game for a year, but the deep threat that he provides will help to open up defences and give Alex Smith some holes to exploit. Even with Alex Smith coming in to his own, the main attraction last year at San Francisco was the defence, which many people believe to be the best in the NFL. The linebackers, in particular, are an absolute monster, with Patrick Willis fast becoming one of the best inside linebackers of all time, and Aldon Smith hoping to add to his impressive sack count from last year. If Alex Smith can perform like he did last year, there is no reason why this 49ers team can't make it all the way to the Super Bowl.
St. Lois Rams
Last year, the Rams and QB Sam Bradford were hotly tipped to have a great season and maybe even finish at the top of the NFC West. Unfortunately, it never quite worked out like that and the Rams finished with a dismal 2-14 record. Under new coach Jeff Fisher, the franchise may well be a work-in-progress for the next few years. The main problem for the Rams is their offensive line, which allowed a sack every 11.2 dropbacks. A quarterback that takes a hit every 11 pass plays is certainly not one that will be allowed to get into any sort of rhythm and this is a problem that must be corrected if the Rams are going to succeed. The defence in St. Louis hasn't been stellar either, as they recorded the second highest rushing yards allowed per game in the NFL last season. Fisher is looking to get RB Steven Jackson more involved in the offence this year and a more ground-oriented attack will help Bradford to find his feet. The last few seasons have not been kind to the Rams and it is hard to see this being the season where their fortunes change.
Seattle Seahawks
This season saw a three way QB battle in training camp for Seattle, with rookie Russell Wilson eventually coming out on top. If he can prove himself early in the season, this Seahawks team could be a contender for the division. With only one starter over 30 years old, this squad is certainly a young one, but it will be interesting to see if they have the maturity to make an impression this season. Probably the most dangerous offensive player for the Seahawks is RB Marshawn Lynch, who led the league last year in yards after contact. A player with his strength and determination will certainly have a big impact if he can stay healthy. The defence will also be formidable this year, with first round pick Bruce Irvin providing a boost to the Seahawks pass rush and Jason Jones adding some strength at the defensive line. This defence are certainly capable of taking the Seahawks to the playoffs, but it remains to be seen if Russell Wilson can be the leader his team needs.
Predictions:
49ers 10-6
Seahawks 8-8
Rams 4-12
Cardinals 4-12